Vital Proteins Collagen Peptides Unflavored 284 g
Retail Price:
Vitasave:
$37.00
(Save 18%)
Vital Proteins' Collagen Peptides - Unflavored are sourced from grass-fed, pasture-raised bovine hides to ensure a high-quality source of this ancient nutrient. Collagen is the most abundant protein in the body supporting the health and vitality of your skin, hair, nails, bones and joints.** Collagen helps to maintain healthy joints and supports bone strength.** It also enhances skin hydration, can improve skin elasticity, and helps to maintain firm skin** Our peptides are easily digestible and soluble in cold or hot liquids.
Benefits:

Bioavailable: Digested and absorbed by the body quickly for maximum benefits.
Beneficial: Helps improve hair, skin, nails, joints and ligaments, and tendon health.
Easy to Use: Soluble in hot or cold liquids, including coffee, smoothies, and baked goods.
Directions: 1 scoop, once daily
Bovine Hide Collagen Peptides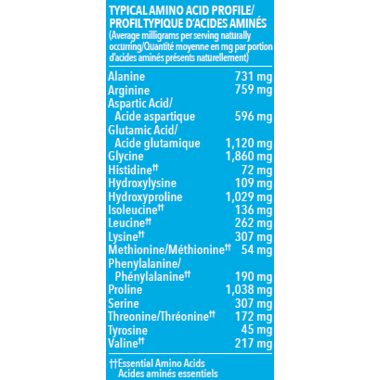 Ingredients: Hydrolyzed collagen (Bovine skin/hide split), manufactured in a facility that processes milk, fish and tree nuts Caution: If you are pregnant or breastfeeding, consult a health care practitioner.
Directions:
Stir into your favourite beverages
Add to smoothies as protein booster
Mix with oatmeal, soups, or sauces
Check out more recipes on the Vital Proteins blog!